AREAS OF APPLICATION AND USES OF THE ANTICAL RF DEVICES
FIELDS OF APPLICATION
The characteristics of the ANTICAL RF devices make them extremely versatile. In particular, the main reason for acquiring any type of Antical RF equipment is the economic and energy savings, as a result of the following factors:
a) Prevents the formation of lime scale in the pipes and helps keep the pipe in good condition, as it also induces a progressive elimination of existing lime scale.
b) It prevents the deposits of lime scale in all electrical resistances, and therefore the consumption of electrical appliances, and in general of all the devices that operate with this principle, is maintained, so that the nominal values of the devices (like new equipment), they remain and their performance remains unchanged over time.
c) Reduces fuel consumption in thermal energy equipment (boilers, accumulators …) due to the optimization of heat exchange due to the absence of the lime scale insulating layer in the pipes and the surfaces of the exchangers.
d) Avoid all lime scale deposits in faucets, coffee machines, washing machines, …, avoiding the use of chemical anti-scale products.
In short, where there is a problem of lime scale deposits, our Antical RF system can be installed, obtaining advantages and results that are unattainable with traditional systems.
In particular, the cost/benefit evaluation of the product must be carried out in relation to the problems it can solve; In fact, in almost all cases, the cost of the device is amortized with the savings made in a period that is usually very short, LESS THAN 1 YEAR.
Here are some of the most common areas of use of Antical RF devices:
DOMESTIC APPLICATIONS
Private homes
Communities of owners
Office buildings
Small shops
COMMERCIAL APPLICATIONS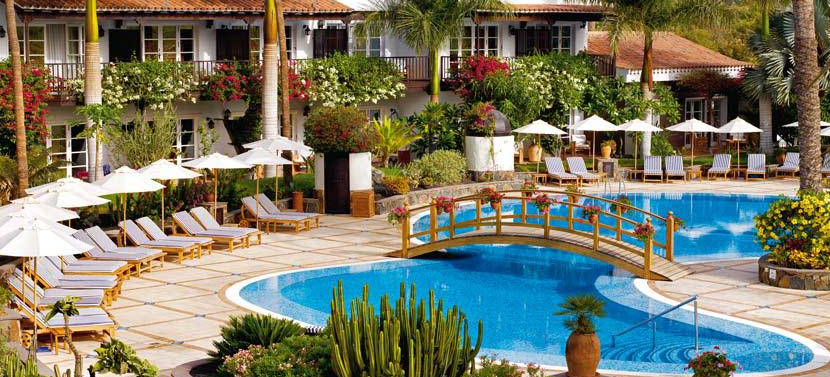 Hotels and restaurants
Apartment buildings
Campsites
Sport centers
Swimming pools and SPA centers
Spas
Malls
CIVIL APPLICATIONS
Municipal water networks
Agricultural irrigation conduction systems (by sprinkling, drip, …)
Water aqueducts
Drinking and potable water treatment plants (PWTP's)
Wastewater treatment plants (WWTP's)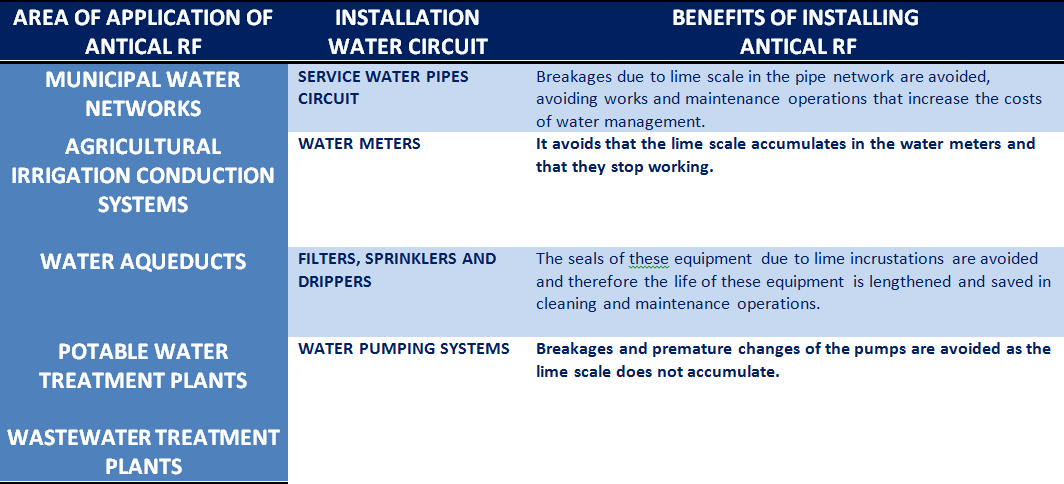 INDUSTRIAL APPLICATIONS
APPLICATIONS AGRIFOOD INDUSTRY
Food industries
Farms and farms (poultry, livestock, …)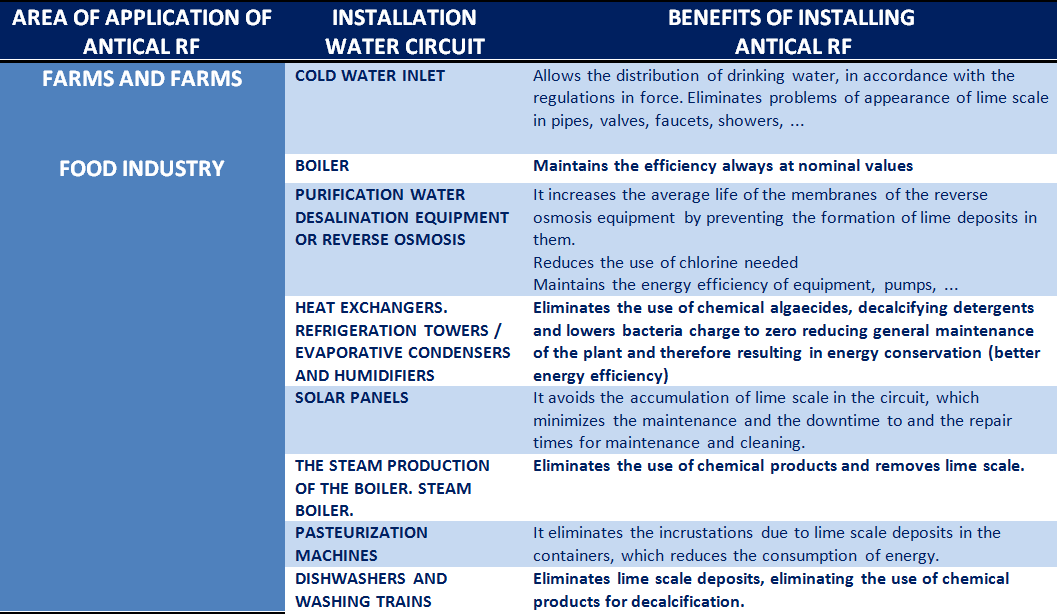 APPLICATIONS HEALTH SECTOR
INDUSTRY APPLICATIONS IN GENERAL
Water supply systems, hot water, process water and cooling water from industries: agrifood, plastic, steel, textile, electronics, pharmaceutical, paper, oil, electric power plants, chemical industry, laundries
Geothermal systems
And in general:
Heat exchangers
Hot water tanks, inter-accumulators and hot water storage tanks
Hot water and steam boilers
Evaporative condensers
Cooling towers
Misting systems